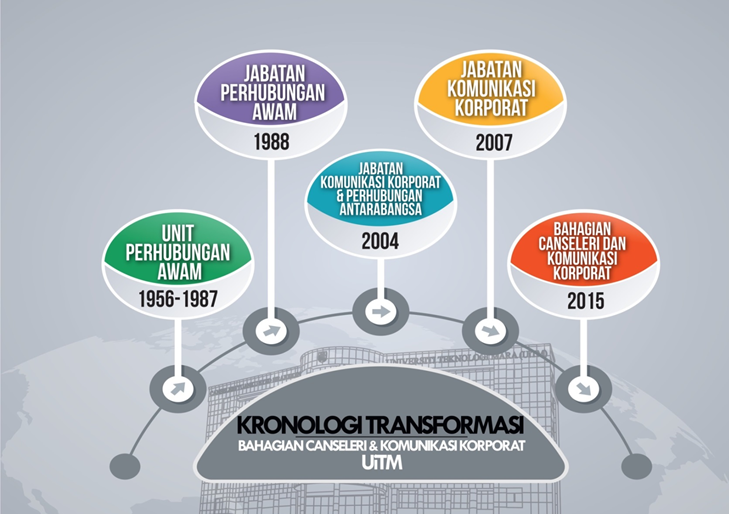 ABOUT US
The Corporate Communications Unit was first established on the 16th. June 2003 which was initially only available at the Main Campus, Shah Alam.

At UiTM Cawangan Melaka, this unit is under the responsibility of the Melaka Rector's Office. This unit has been led by a Coordinator and three campus coordinators as the driving force to enhance the image of UiTM Cawangan Melaka through bilateral relations with various agencies/departments and the community through various forms of activities and cooperation.

Apart from that, the Corporate Communication Unit provides expert services, technical support and publicity to help raise UiTM's image.
Mission:
To be a unit that upholds the corporate image of UiTM Cawangan Melaka.

Vision:
To establish and coordinate a uniform corporate image of UiTM Cawangan Melaka and strengthen relationships with stakeholders such as the state government, media, public and private institutions, NGOs, foreign and domestic guests and the outside community, especially in the state of Melaka.
As one of the important units in the management system of Universiti Teknologi MARA Cawangan Melaka, the Corporate Communication Unit emphasizes:-
Inculcate corporate culture among UiTM Cawangan Melaka staff.
Ensure that university corporate publications are uniform and in line with corporate policy.
Ensure that news, policies and information related to the university are disseminated and understood by university residents and the outside community. (FB and website)
Standardize a corporate image that features an outstanding university identity.
Strengthen and establish bilateral relations with the outside community.

Led by a Head of Unit assisted by 6 coordinators:


Campus Coordinator who are responsible for coordinating events and protocols:
Kampus Alor Gajah

Kampus Bandaraya Melaka

Kampus Jasin
Coordinator responsible for Multimedia, Documentary and Publishing Management.
Coordinator responsible for Websites and Social Media.
Coordinator responsible for Image, Graphic Design, Photography & Production.
TOP MANAGEMENT
Our Head of Unit and Coordinators
UiTM Cawangan Melaka is
awesome
nice
cool
from the beginning...